One hour bleaching systems use a very bright light to activate higher bleaching concentrations to produce faster, more dramatic whitening results.
The technician will protect your mouth very carefully using cotton rolls, gauze and a liquid dam.
A special whitening lamp is used to activate the whitening gel for approximately 60 minutes.
DIY vs. Dentist-provided Home Whitening Kits
KNOW THE DIFFERENCE!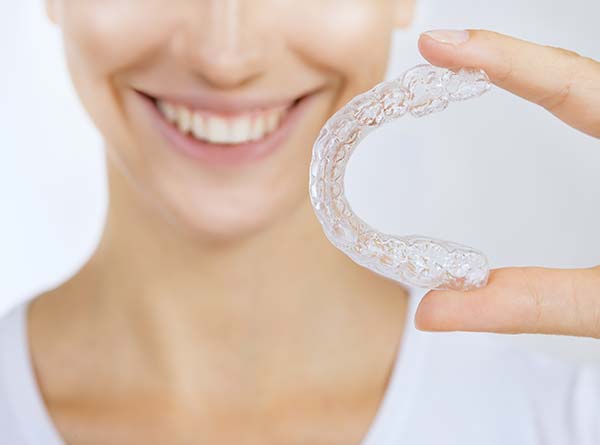 There is a difference between the teeth whitening kits you can get from the supermarket and the high-strength home whitening kits our office is able to provide. Store-bought do-it-yourself whitening kits feature a "boil-and-fit" mouthpiece that can be uncomfortable and generally requires more whitening gel per tooth to achieve whiter teeth. The gels in the store-bought whitening kits are also are not as concentrated as what we can offer which means it takes longer to achieve desired results. William Perry DDS, PC uses kits that are able to create an exact-fit whitening tray that is custom built for your teeth. This maximizes the displacement and effectiveness of the whitening gel ensuring that it surrounds the teeth evenly and entirely. Additionally, our home-whitening kits use a high-strength proprietary whitening gel that you can't get over-the-counter from a supermarket which means your teeth get a deeper and longer lasting result in less time.

If you are thinking or have any questions about our single-visit teeth whitening system or about our take-home whitening kits, please call us at (408) 399-9205. You can also request an appointment and get set-up for your one-hour whitening appointment.
Understanding Tooth Stains
The outer-most layer of your tooth, the enamel, is what becomes stained or discolored and adversely, whitened during teeth whitening treatment. The tooth's enamel is actually quite porous when looked at up close and thinking about it this way makes it easier to understand how teeth can become stained.

Coffee, tea, colas, wine, certain fruits and vegetables, smoking or chewing tobacco and inadequate brushing and flossing can all cause the tooth's enamel to stain. Tiny microscopic particles lodge themselves into the porous enamel layer of your teeth which causes the overall appearance of the tooth to become discolored. William Perry DDS, PC offers professional-grade whitening solutions that eliminate stains and discoloration by blasting out the particles within the porous enamel layer and effectively bleaching the enamel. What is left behind is a beautiful whiter enamel layer.
Opalescence Take Home Whitening
Opalescence Take Home Whitening Gels are only available from your dentist, who will supervise your treatment from initial consultation through completion. The sticky, viscous gel won't migrate to gums and most formulations include Potassium Fluoride (PF), which helps to improve oral health by strengthening enamel, decreasing sensitivity and offering increased cavity prevention.
For a brighter, whiter smile without the wait, choose Opalescence Boost, an in-office, whitening treatment that offers results in less than an hour. It's ideal for people who want almost instant whitening .
The EPIC X offers fast access and fast whitening versatility and delivers greater patient comfort. The EPIC X was created to be the most versatile, most responsive and most portable diode laser on the market so dentists can delight their patients, faster.